It has never been more important to consider the diversity of STEM disciplines for both researchers and students, but the discussion around diversity is frequently missing an intersectional lens.
When universities implement equity hiring and equity student outreach without acknowledging intersectional barriers to success, the resulting "diversity" does not benefit anyone.
Black female students, in particular, lack supportive academic environments. They face significant challenges, both as women whose competency is questioned and as Black students in fields that lack representation. As women, they experience the stress of knowing that their actions may confirm negative stereotypes about their performance — an anxiety known as "stereotype threat." And, according to a 2019 study, Black STEM students have higher dropout rates from science majors than their white counterparts and are nearly twice as likely to drop out of postsecondary education altogether.
Black female students face compounded, systemic pressures to leave STEM education. A lack of intersectional awareness in STEM supports this trend. Thus, the STEM environment must change both at the early education level as well as at higher academic institutions to support the participation of Black female students. This means developing an intersectional lens when considering the needs of students.
What does "intersectionality" mean?
In a 1989 analysis, lawyer Kimberlé Crenshaw coined the term "intersectionality" to argue that by ignoring the important intersections of race, religion, gender, and sexual orientation, we are ignoring the unique sets of challenges faced by minoritized groups in society. The term "intersectionality" describes how these different aspects of one's personality come together to create a unique experience of discrimination and privilege.
This is especially true for Black female students in STEM. In a 2017 study, 57 percent of Black STEM employees claimed that their workplace did not pay enough attention to diversification efforts, compared to 15 percent of white employees. Furthermore, 62 percent of Black employees claimed that they themselves faced direct discrimination while trying to enter a STEM field. At the same time, women comprise less than a quarter of the Canadian STEM workforce.
Understanding the unique challenges created by the intersection of race, gender, religion, and sexual orientation is critical to encouraging the success of minoritized students. So what is going wrong in STEM?
Is diversity without intersectionality beneficial?
It is no secret that greater diversity in the staff and student population of a university benefits everyone. Research has shown that a diverse student body is highly associated with increased productivity, innovation, and problem-solving abilities. Working in close proximity with those who have different experiences from our own teaches us how to function in a complex and multifaceted world.
However, it is not as simple as increasing the number of minority professors or expanding admission quotas to admit more racialized students. Diversity and inclusion efforts that do not take into account intersectionality cannot be effective. Intersectionality allows us to understand the ways that separate systems of oppression work together to influence a person's lived experience.
For example, a Black Muslim woman in STEM does not only interact with her colleagues as a Black person, a Muslim, or a woman. Rather, these characteristics come together to create a unique interaction that may contribute to her marginalization.
This Black woman in STEM is burdened by stereotypes of incompetence based on both her gender and race. Consider the heteronormative nature of STEM, where mentoring relationships are likely to reinforce male authority and encourage women to adopt more "masculine" behaviour. Now, add to that the experience of being visibly Muslim in an environment where networking and socializing events are often centred around alcohol, thus isolating an entire demographic.
From this example, it is clear that without understanding the complex lived experiences that intersectional diversity creates, it is very difficult to support the participation of marginalized students in STEM fields.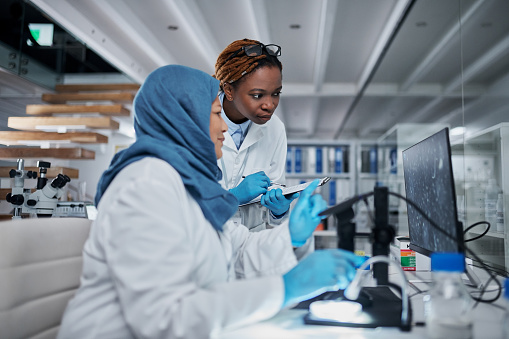 The need for intersectional hiring and networking
In a national Canadian survey, researchers found that 34 percent of students who received Bachelor's degrees in STEM fields were women, but women only represented 23 percent of the national STEM workforce. Similarly, in the US, studies show that Black students are equally as likely as white students to declare a STEM major but make up just 9 percent of the STEM workforce. We see here that the problem is not that women and minorities are not interested in a STEM education, but rather it is that they are disproportionately either switching majors or leaving their respective fields after receiving a degree.
The problem is that without adequate mentorship and representation that takes into account the unique experiences of each group, these students cannot network and succeed to their full potential. Black female students need mentors and peers that share their identity to support their education: successful researchers, graduate students, professors, and industry professionals who can provide advice specific to the barriers students may face.
If institutions such as U of T are committed to improving the experiences of women and minoritized groups in STEM, it is essential that they adopt an intersectional perspective. For example, universities should aim to hire more Black, LGBTQ+, and Muslim women as faculty members instead of simply increasing the number of women.
Furthermore, U of T should employ structural changes that bring STEM students together with minoritized researchers and industry professionals to encourage those pursuing STEM degrees to network and organize with mentors that can share their lived experiences. U of T can encourage departments to reach a quota of Black, LGBTQ+, and Indigenous female faculty that would ensure the department is representative of the student body.
Additionally, Black female students may be more encouraged to attend conferences if the conferences included more keynote speakers who shared their identities. Steps like these would increase feelings of inclusion and belongingness, and encourage marginalized students to continue within their chosen field of interest.
The student body is not exempt from encouraging such changes as well. Student councils and leaders of student associations are especially responsible for setting the tone when it comes to diversity awareness. For example, in addition to regularly scheduled social events, student councils/associations can hold workshops and seminars on the role of race in STEM. Students can also lobby departments to make diversity training mandatory for one's degree completion. Racialized students in STEM, particularly Black female students, have to fight against societal views of both their gender and race. Many of the problems we see could be easily addressed if those in power simply used the correct perspective. By considering intersectional diversity in program design and hiring decisions, universities can ensure better outcomes for disenfranchised students, both during their university career and beyond.
---
References
1. Bidwell, Allie. "ACT: Student Interest In STEM Remains Steady For 2014 Graduates". US News, 2020, https://www.usnews.com/news/stem-solutions/articles/2014/11/19/act-student-interest-in-stem-remains-steady-for-2014-graduates. Accessed 12 Apr 2020.
2.Bidwell, Allie. "STEM Workforce No More Diverse Than 14 Years Ago". US News, 2020, https://www.usnews.com/news/stem-solutions/articles/2015/02/24/stem-workforce-no-more-diverse-than-14-years-ago. Accessed 12 Apr 2020.
3."Nsf.Gov – S&E Indicators 2014 – Chapter 2. Higher Education In Science And Engineering – Undergraduate Education, Enrollment, And Degrees In The United States – US National Science Foundation (NSF)". Nsf.Gov, 2020, https://www.nsf.gov/statistics/seind14/index.cfm/chapter-2/c2s2.htm.
4.Baird, Matthew et al. "Decomposing The Racial Gap In STEM Major Attrition: A Course-Level Investigation". Rand.Org, 2020, https://www.rand.org/content/dam/rand/pubs/working_papers/WR1100/WR1171/RAND_WR1171.pdf.
5.Charleston, Lavar et al. "Intersectionality And STEM: The Role Of Race And Gender In The Academic Pursuits Of African American Women In STEM". Journal Of Progressive Policy And Practice, vol 2, no. 3, 2014, Accessed 12 Apr 2020.
6. 2020. A Gender Analysis of the Occupational Pathways of STEM Graduates in Canada. Www150.statcan.gc.ca .
The following two tabs change content below.
Salma Sheikh-Mohamed
Salma Sheikh-Mohamed is a second year Master's student in the Immunology department at UofT, researching the use of Imaging Mass Cytometry (IMC) for immunophenotyping human tissue. Her recent work using IMC in the human brain can be found in a manuscript entitled Multiplex Imaging of Immune Cells in Staged Multiple Sclerosis Lesions by Mass Cytometry. When not working in the lab, she enjoys reading, baking, and working on her food photography skills.
Latest posts by Salma Sheikh-Mohamed (see all)